Caring For Our Struggling Tri-State Neighbors By Meeting Their Basic, Daily Needs
Throughout the course of the year, there are at over 500 homeless people living in shelters in Evansville, Indiana. This total does not include individuals or families living in abandoned buildings, along the riverfront, "couch surfing" with friends or family members, or in other unnoticed, neglected areas.
Homelesssness can result from many issues – including job loss, physical illness, a move, a divorce, domestic abuse, financial mismanagement, mental illness, and drug/alcohol addiction. No matter the circumstance, your Evansville Rescue Mission is here to help. Our doors are open every day of the year, with a help desk available 24/7 to serve any of our Tri-State neighbors who turn to us for help.
With a capacity of 222 beds (not including cots and mattresses), your Evansville Rescue Mission's Men's Residence Center is the Tri-State's oldest and largest service provider for homeless men. Despite this limited capacity, we do not turn away any male (over the age of 18) during times of inclement weather. Specifically, during the bitter cold between November and March and during the summer months of June and August when there are periods of excessive heat.
Services Offered At The Residence Center
As many as 175 homeless men call our Residence Center home on a given night. Each and every day they receive the following emergency services: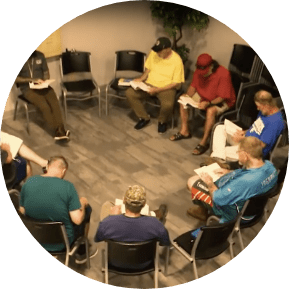 P.A.C.E.S. Program
Beyond the daily provision of meals, shelter, and clothing, we feel the most important component to an individual's success is our model of programming. P.A.C.E.S. – which stands for Purpose Accountability Christ Education and Service – is divided into three phases with four different tracks of programming.
In recent years, we have switched our model from providing emergency shelter to offering restoration programs, transitioning from time-based to a goal-based system. We believe this will end the cycle of poverty and lead to long term success, breaking down the barriers that lead to homelessness.
Once an individual applies for P.A.C.E.S., they are assigned one of the following tracks of programming:
O.A.S.I.S.
Overcoming Addictions, Spirituality Inspiring Success.
S.O.U.L.
Spiritual Opportunities for Unburdened Living.
Health & Wellness
Which helps men with physical or mental ailments achieve successful, independent living.
---
Whatever track they join, each man works to rebuild his life by attending specialized classes and Bible studies, participating in work detail and meeting with their case manager.
---
O.A.S.I.S. – Overcoming Addictions, Spirituality Inspiring Success:
More than half of the residents who come through the ERM deal with some form of addiction. This program focuses on addiction recovery to help them address the root causes of addiction and overcome destructive behaviors.
Achieve ongoing/continuous sobriety
Become active in local recovery fellowships outside of the ERM
Acquire a sponsor and work the 12-steps of recovery with him
Attend all classes (change and orientation, spiritual development, relapse prevention, recovery education, Faith 101, 12-step meetings, etc.)
Develop leadership skills (share their personal recovery story with peers)
Lead recovery meetings at the ERM and in community
Mentor new OASIS members and volunteer in the community
Develop a long-term life plan with goals to obtain future housing
S.O.U.L. – Spiritual Opportunities For Unburdened Living:
A holistic track that works to identify some of the less obvious barriers to success, and promote physical, mental, emotional, and spiritual growth to counteract these barriers.
Attend the following classes

Life Skills
Spiritual Disciplines
Anger Management
Bible Study

Complete Self-Confrontation Book Study
Connect with a local congregation and serving in a congregation
Complete 40 hours of community service
Develop personal testimony and share with the group
Health And Wellness
Focused on helping individuals who have mental or physical barriers that are keeping them from living successful and independent lives.
Assistance applying for healthcare coverage
Develop a treatment plan
Apply for Social Security/Disability (if applicable)
Attend support group and classes
Connect with outside supportive agencies
Must take all necessary medications
Develop a long-term life plan with goals to obtain future housing
---
If you or someone you know would like to join our P.A.C.E.S. Program, please contact:
Joshua Nichols | Senior Vice-President / Chief of Staff
(812) 421-3806 ext. 6750 | joshua.nichols@ermstaff.org
---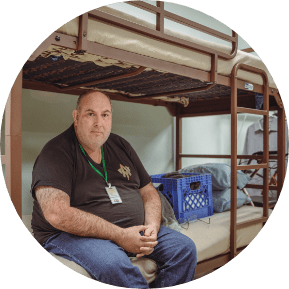 Emergency Shelter
Upon entering the Residence Center, each of our homeless guests have the opportunity to apply for P.A.C.E.S. on that day or within 14 days of emergency shelter. Our goal is to immerse residents in classes, bible studies, community, and case management as soon as possible!
Each guest can store their non-essential belongings in a 27 gallon bin. Guests can access their belongings while storing essential items in a crate that is placed at their assigned bed. Our storage area gives our guests peace of mind, knowing that their possessions are secure and protected.
Any resident who needs a particular clothing item can complete a clothing request form. Depending on what they need, a guest can receive two of any requested clothing item with the exception of shoes (only one pair of shoes given per request). Any of our residents can complete up to two clothing requests a month (except in the event of an emergency).
If you would like to bless others by making a clothing/hygiene/supply-related donation, please refer to the Immediate Needs list in the far right tab. 
Each of our guests have laundry privileges and can wash/dry up to three sets of clothes every other day. Meanwhile, bedding, linens and other miscellaneous items are washed and dried on alternate days each week.
The Rescue Mission uses a software program called Homeless Management Information System (HMIS), which is administered by the Indiana Housing and Community Development Authority. We use HMIS as a database and case management system to collect and maintain information concerning the characteristics and service needs of our guests. Each guest has direct access to HMIS Notice of Privacy Practices, which can be found by clicking here.
---
If you need shelter, please contact our Men's Residence Center:
500 E Walnut St
Evansville, IN 47713
Resident Director, Bryce Moseby (812) 962-6717
---
White Flag
During the months of November through March, anytime the feels-like temperature is 35 degrees or below, we offer our White Flag program. No matter our capacity at the time, your ERM will make room for men experiencing homelessness during the nighttime hours so they can find refuge from the elements and cold weather. 
Red Flag
Similar to our White Flag program in the winter, this serves as a refuge to escape the heat. During the summer months from June through August, if the feels-like temperature is above 95 degrees or higher, any man experiencing homelessness can find refuge at your ERM.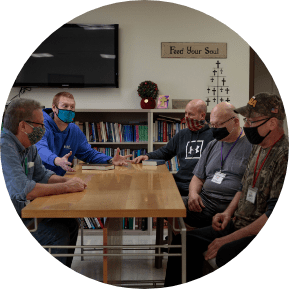 Graduate Programs
The Graduate Program at your ERM exists to support graduates of your ERM's  P.A.C.E.S. programs as they transition back to independent living. Members of our Graduate Program can participate in the following tracks of the program, based on their goals, needs, and living situations.
Transitional
After completing a track of the P.A.C.E.S. Program, residents of the ERM often need a period of time to focus on working toward goals while transitioning back to independent living. These goals often include building substantial savings, obtaining a vehicle or reliable transportation, acquiring a permanent place of residency, and finding employment or a sustainable form of income. The Transitional track of the Graduate Program provides residents with an opportunity to focus on achieving their set goals while residing in the ERM's transitional housing.
Requirements:
Complete and turn in the P.A.C.E.S. 3 Graduation Intention Form and discuss intentions with assigned Case Manager, and the Connections Pastor

Graduate successfully from their assigned P.A.C.E.S. track of programming

Complete the Transitional Housing application to move into the Centennial Center

Obtain or pursue employment, further education, or reliable source of income sufficient for independent living

Be approved for the Transitional Track via

an

interview with the Connections Pastor, as well as final approval by the ERM President/ CEO
Connect
After successfully completing a track of programming and transitioning to independent living, many prior residents struggle to find community connection. Often, this lack of connection leads to these prior residents falling back into old habits or struggles that led to their initial homelessness.
The Connect Track of our Graduate Program seeks to connect prior residents back to the ERM and the community as a whole. This is done by encouraging and assisting members of our Connect track in the pursuit of involvement with local churches, recovery groups, and volunteer opportunities. Members will have access to meetings with the Connections Pastor to focus on reaching goals and meeting specific needs. Additionally, members of our Connect Track will be invited to join our growing Graduate Community and have access to community gatherings and Bible studies.
Requirements:
Must have graduated from either a P.A.C.E.S. track of programming or from the Transitional Track of Graduate programming. If an applicant is not a graduate, they must have been a former resident who has successfully departed the ERM due to a reliable housing or employment opportunity, or had achieved set goals

Complete a Connect Track Application

Fill out volunteer application with ERM's Assistant Director of Community Engagement

Meet with the Connections Case Manager to discuss volunteer opportunities best suited for the individual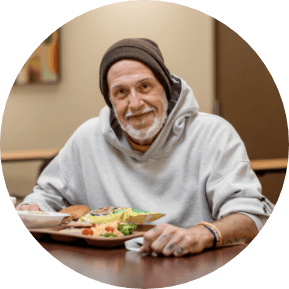 Meals
Our emergency services begin with a hot, nourishing meal served by faithful community volunteers. Each and every day (including holidays), our guests AND the general public have the opportunity to visit the Residence Center for a meal. Meal times are offered as follows:
Monday – Friday:
Breakfast 6:00 a.m. – 7:00 a.m.
Lunch 11:30 a.m. – 12:30 p.m.
Dinner 5:00 p.m. – 6:00 p.m.

Saturday:
Breakfast 7:00 a.m. – 8:00 a.m.
Lunch 11:30 a.m. – 12:30 p.m.
Dinner 5:00 p.m. – 6:00 p.m.

Sunday:
Breakfast 7:00 a.m. – 8:00 a.m.
Lunch 12:30 p.m. – 1:30 p.m.
Dinner 5:00 p.m. – 6:00 p.m.
Considering our staff and volunteers do not take a day off in offering meals to the community, your Evansville Rescue Mission heavily relies on the generosity of various food distributors, grocery stores, restaurants, and individuals to ensure we have enough food in our pantry.
Having enough food is important, but without the faithfulness and friendliness of our strong volunteer base, our meal services could not function. For volunteer information about serving a meal at the Residence Center, please click here.
If you or someone you know needs a hot meal, please show up to our location at our Men's Residence Center during the above times.
Help meet our most urgent needs!
See the list of items YOU can provide to care for our guests.