Evansville Rescue Mission is a non-denominational, Christian social service organization dedicated to meeting basic needs and sharing the love of Christ with our Tri-State's homeless, at-risk youth, and impoverished families.
Each of our staff members and Board Directors obediently adhere to Evansville Rescue Mission's statement of faith as a condition of employment and volunteerism.

ERM endorses and follows an equal employment opportunity policy that recruits, hires, trains, and promotes individuals in all job titles without regard to race, ethnicity, gender, age, or physical or mental disability (except where the disability prevents the individual from being able to perform the essential functions of a given job and cannot be reasonably accommodated in full compliance with the law).
Please reference and complete our employment application form:
Here is a listing of employment opportunities through ERM's ministry divisions:
No jobs are available at this time.
No jobs are available at this time.
No jobs are available at this time.
Processing Associate – Part Time
The Processing Associate will be responsible for all donated items being processed for sale in
the Thrift Store by ensuring all the following operating procedures are
completed in a timely manner and they will report directly to the store
manager.
· Ensure that the item is clean and if it is
not, clean it using the supplies that are provided. We have a high standard for
our store and all items are to be as clean as we can possibly get them.
· Make sure that all donations are placed in the
appropriate locations as they are sorted upon arrival.
· Ensure there is a clean and organized area
where you and any other associates helping you can appropriately process
donations.
· Check that donated items are not broken, torn,
defaced, or missing any pieces. If they are, throw it away.
· Price the item using the pricing guide that
has been provided as a guide.
· Ensure that each section of the store floor is
clean, organized, and staged in a manner that makes it easy for customers to
see what we have available.
· Be able to assess and prioritize what needs to
be processed and taken to the store floor.
Requirements:
· High School Diploma or GED
· Retail experience preferred
Executive Director – Men's Residence Center
Division:  Men's Residence Center
Department:  Executive Leadership
Reports To:  President / CEO
Classification:  Full-Time / Exempt
Purpose of Position:
The Executive Director of the Men's Residence Center is a member of the ERM's Executive Leadership team.  The Executive Director is responsible for the leadership, direction, and organization of the entire Men's Residence Center.  The MRC is a multifaceted operation requiring knowledge of homelessness in the community. 
The Executive Director shall responsibly plan, organize, develop, coordinate, and direct all aspects of the Men's Residence Center in accordance with all applicable laws, rules, standards, guidelines, and regulations.  The Executive Director is responsible for making daily operating decisions and executing tasks by providing direct supervision and support.  The Executive Director must effectively coordinate division efforts with other Division Directors, stakeholders, grant monitors and research analysts in order to carry out the mission of the Evansville Rescue Mission.  The Executive Director performs other functions as designated by the President / Chief Executive Officer of the Evansville Rescue Mission. The Executive Director understands, adheres to, and enforces the policies and procedures of the Evansville Rescue Mission. 
Specific Position Responsibilities:
Responsible for the development, implementation, and administration of the Men's Residence Center's policies and procedures based on sound management practices and guidelines.
Develops procedures, programs and policies to assure efficient and implement new procedures in the division.
Establish annual goals consistent with the Strategic Plan, utilizing evidence based practices and monitor the adherence and progress of each goal.
Work closely with the President / CEO and other divisional leaders preparing and submitting complete budget and human resource plans, and maintaining appropriate controls.
Work closely with Human Resources to create the most effective, efficient work environment possible.
 Provides quality service that continuously improves, meets or exceeds public expectations, and ensures all are treated with courtesy, dignity and respect. 
Represent the Men's Residence Center.
Develop an organizational structure for the office to ensure expeditious and effective handling of investigations, reports, supervision of residence, and other matters.
Ensures that established organizational structure and individual roles are respected and maintained within the ministry, or are altered as needed when in the best interests of the ministry.
Promotes and maintains conditions that encourage staff loyalty, enthusiasm, and morale; ensures organizational and individual compliance with Equal Employment Opportunity and ERM philosophies and practices, and with the established ethical code of conduct. 
Ensures that communications and the flow of information within the division are maintained in a consistent and open manner; confers regularly with immediate staff, conducts periodic management meetings, and conducts periodic general staff meetings or provides timely and accurate informational bulletins to staff members as appropriate. 
Provides for the systematic evaluation and audit of administrative and technical operations to ensure the quality of services meets organization standards. 
Monitors program and operation implementation, development, and evaluation. 
Provides guidance in the development and preparation of submissions for new programs and procedures. 
Performs other tasks and work as assigned and/or required by the President / CEO.
Education and/or Experience
A four year college degree and a minimum of 5 years of supervisory/leadership experience is required for this position.
Youth Care Center – Behavior Technician
Job type: Part-time Auxiliary
Purpose Of Position:
This position is responsible for the supervision, safety, care, and counseling of the residents at the Evansville Rescue Mission Youth Care Center in order to provide a secure, structured environment conducive to the physical safety and well-being of the detainees.
Responsibilities:
Supervise juveniles in an institutional setting.

Apply approved methods of restraint as appropriate.

Conduct small group programming.

Assemble and analyze information to prepare written reports and records in a clear, concise manner.

Work independently and as a team member.

Effectively communicate in person, over the telephone and in writing.

Express oneself clearly and authoritatively and to listen attentively to others.

Operate modern office equipment including computer equipment and specialized software applications.

Maintain high personal standards of ethics and integrity.

Maintain significant flexibility in daily operations and decision making.
The Evansville Rescue Mission offers a limited amount of unpaid internships for college students each Fall, Spring, and Summer semester. Please read the information below and pray about working alongside our staff in serving the needy and homeless of the Tri-State area. If you wish to apply, please fill out the application by clicking the Internship Application link below.

Once all information is received, and the intern is accepted, it will be processed and sent to the appropriate Department Director for further review. All Interns will need to submit to background checks and drug tests.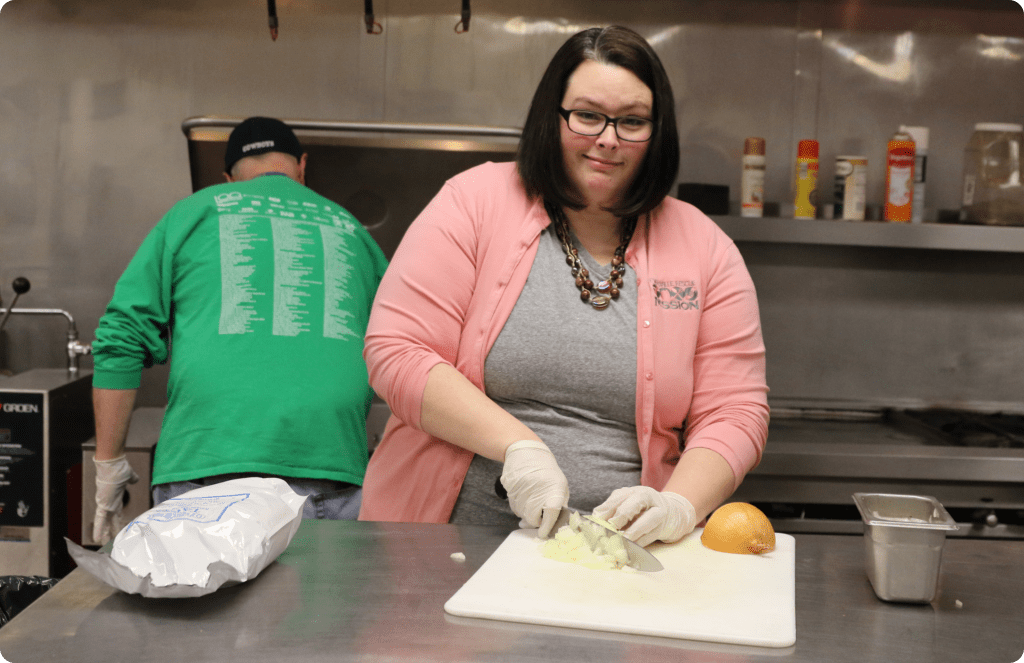 Internships may be available in the following areas:
(Social Service Majors, Human Services, Criminal Justice)
(Business Administration, Nonprofit Management, Marketing, Videography, Writing, Communications)
(Fashion Merchandising, Marketing)
Give now to provide life-changing care that helps men, women, and children in the Tri-State overcome hardship and find new life through Christ's love.