Evansville Rescue Mission is a non-denominational, Christian social service organization dedicated to meeting basic needs and sharing the love of Christ with our Tri-State's homeless, at-risk youth, and impoverished families.
Each of our staff members and Board Directors obediently adhere to Evansville Rescue Mission's statement of faith as a condition of employment and volunteerism.

ERM endorses and follows an equal employment opportunity policy that recruits, hires, trains, and promotes individuals in all job titles without regard to race, ethnicity, gender, age, or physical or mental disability (except where the disability prevents the individual from being able to perform the essential functions of a given job and cannot be reasonably accommodated in full compliance with the law).
Please reference and complete our employment application form:
Here is a listing of employment opportunities through ERM's ministry divisions:
Maintenance Technician
Full-time 
PURPOSE OF POSITION: 
The job of General Maintenance Worker was established for the purpose/s of providing maintenance services as needed and/or assigned; assisting in a wide variety of maintenance activities; addressing immediate operational and/or safety concerns; assisting skilled trades; and ensuring that tools, materials and vehicles are maintained in God working order and are available at job site when needed.
SPECIFIC POSITION RESPONSIBILITIES:
·         Troubleshoots maintenance problems involving electrical, structural, plumbing, and equipment repair or replacement.
·         Performs preventive building maintenance duties.
·         Performs routine plumbing repairs such as unstopping toilets, sinks or urinals, fixing water leaks, leaking faucets, water fountains, etc.
·         Performs routine electrical repairs such as changing light bulbs or fluorescent lamps and assists in repairing ballast and light fixtures.
·         Assembles and moves furniture, hangs pictures and bulletin boards, moves and sets up tables and chairs.
·         Paint interior and exterior walls.
·         Perform a wide variety of general and skilled maintenance activities for the purpose of completing projects in an established time frame.
·         Have an adequate knowledge of project and facilities management.
·         Outdoor maintenance activities including put not limited to:  lawn mowing, trimming, landscaping, etc.
Summer Camp Counselor
Seasonal position
Full-time (Monday-Friday)
Role and Responsibilities
Provide leadership and guidance to all campers.

Take primary responsibility for the health and well-being of campers.

Enforce the rules and policies of camp.

Serve as a Christian role model to campers in personal faith, worship, language, appearance, manners, and health habits.

Complete tasks assigned by the camp directors to complete (e.g. art, devotions, hiking, special group projects, administrative assistant, etc.).

Work together with the entire staff for the welfare of the camp and campers.

Essential Functions of Job:
Auditory and visual ability to respond to critical incidents.

Ability to perform routine first aid tasks.

Abilities to observe camper behavior, assess its appropriateness, enforce appropriate safety regulations and emergency procedures, and apply appropriate behavior management techniques.

Ability to lead and participate in activities that help all campers be involved and have a successful experience.
No jobs are available at this time.
Thrift Store Associate
Part-time (Weekend Availability Needed)
Role and Responsibilities
Handle cash and credit card transactions with customers

Scan goods and collect payments

Issue receipts, refunds, change, or tickets

Greet customers when they are entering and leaving the store

Maintain a neat and tidy checkout area

Keep required reports such as open cash drawer logs and voids/refunds

Bag, box, and wrap packages

Assist in store organization and tagging product when needed

Pleasantly work to keep customers satisfied

When not assisting customers you would be required to straighten shelves, stock items, and clean

Opening and closing thrift store successfully
No jobs are available at this time.
Youth Care Center – Behavior Technician
Job type: Part-time Auxiliary
Purpose Of Position:
This position is responsible for the supervision, safety, care, and counseling of the residents at the Evansville Rescue Mission Youth Care Center in order to provide a secure, structured environment conducive to the physical safety and well-being of the detainees.
Responsibilities:
Supervise juveniles in an institutional setting.

Apply approved methods of restraint as appropriate.

Conduct small group programming.

Assemble and analyze information to prepare written reports and records in a clear, concise manner.

Work independently and as a team member.

Effectively communicate in person, over the telephone and in writing.

Express oneself clearly and authoritatively and to listen attentively to others.

Operate modern office equipment including computer equipment and specialized software applications.

Maintain high personal standards of ethics and integrity.

Maintain significant flexibility in daily operations and decision making.
The Evansville Rescue Mission offers a limited amount of unpaid internships for college students each Fall, Spring, and Summer semester. Please read the information below and pray about working alongside our staff in serving the needy and homeless of the Tri-State area. If you wish to apply, please fill out the application by clicking the Internship Application link below.

Once all information is received, and the intern is accepted, it will be processed and sent to the appropriate Department Director for further review. All Interns will need to submit to background checks and drug tests.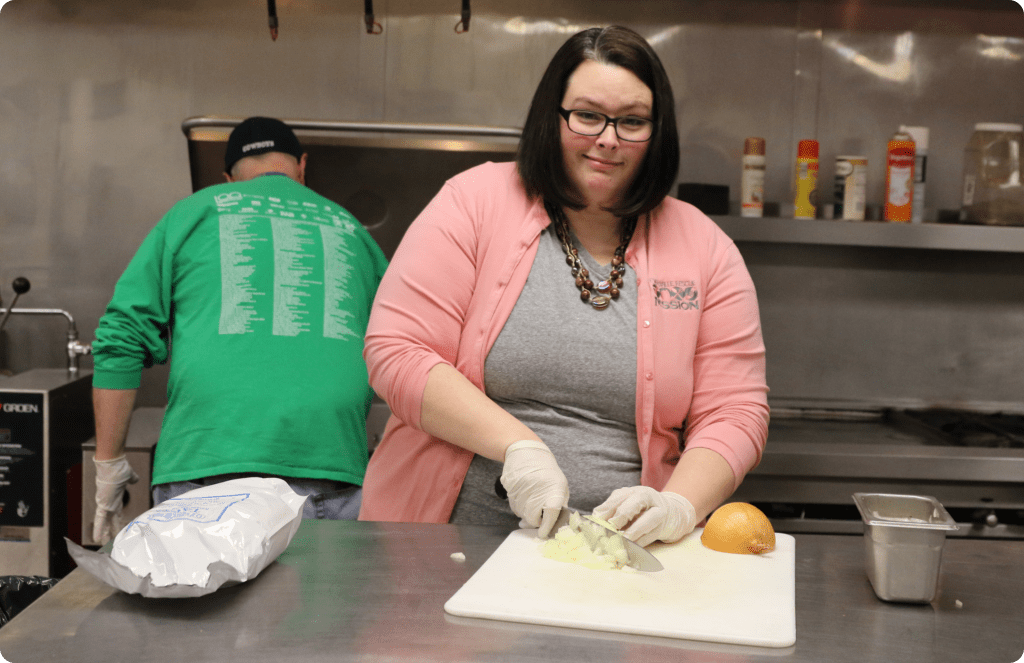 Internships may be available in the following areas:
(Social Service Majors, Human Services, Criminal Justice)
(Business Administration, Nonprofit Management, Marketing, Videography, Writing, Communications)
(Fashion Merchandising, Marketing)
Give now to provide life-changing care that helps men, women, and children in the Tri-State overcome hardship and find new life through Christ's love.