Serving Our Community with Love and Compassion
Our
heart

for the hurting
Your Evansville Rescue Mission was started back in 1917 by our co-founders, Dr. Ernest "Pappy" Reveal and his wife, Edna. They had a vision to reach out to our Tri-State area's hurting, forgotten, and impoverished… a heart of service we still share today.
As our community's oldest and largest ministry of its kind, your ERM seeks to restore dignity, health, and hope by sharing the love of Jesus Christ with those in need. Through a variety of life-changing programs and services, we reach out to hurting and vulnerable neighbors to help them discover new life in Christ.
Welcome Friends!
For more than 106 years, your Evansville Rescue Mission has been a beacon hope here in our Tri-State area. We care for people in need of vital services to survive… and provide opportunities for service to those looking to put their compassion into action.

Over the years, our prayer has been that our ministry would not just survive, but thrive. And thanks to the heartfelt prayers, selfless sacrifices, and incredible generosity of so many friends and partners, we've done just that!
It's my privilege to welcome you to our website – these pages are filled with stories of hope and lives rebuilt. For some, the information you seek here will be the first step toward personal and spiritual wholeness.
Whether you're…
• a guest searching for a comfortable bed and a hot meal…
• a supportive partner looking for ways to serve your fellow citizens by donating or volunteering…
… You'll find many, many opportunities at your Evansville Rescue Mission – and can learn more about each on this website.
If you have questions or can't find the answers you seek on our website, please reach out to our staff by clicking on our "Contact Us" button. We're excited to tell you more about this beloved ministry – and we're here to help you in any way we can. God bless you!
All the best, Tracy L. Gorman, President / CEO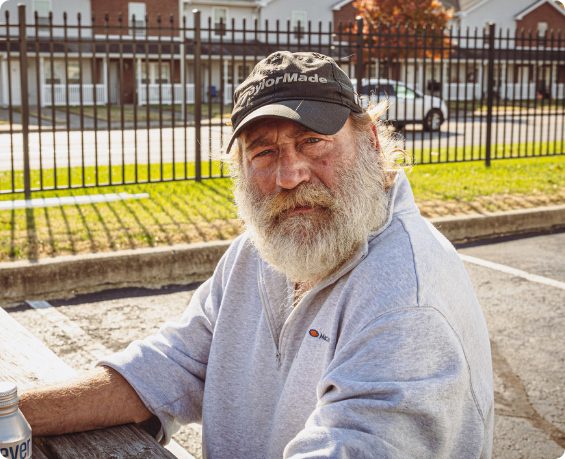 We exist to glorify God by meeting the basic needs of those we serve and by sharing with them the life-changing message that "Jesus Saves."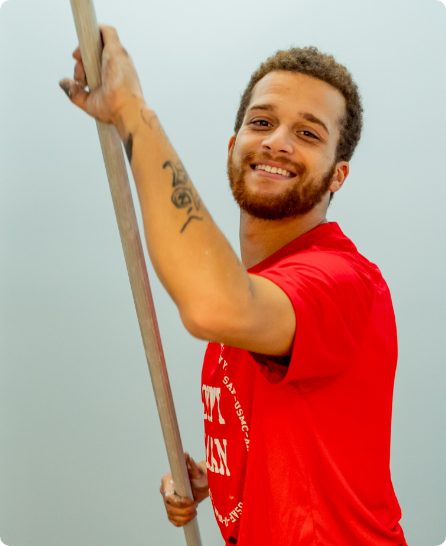 To see every man, woman, and child we serve equipped to be productive citizens who enjoy lasting success in Christ.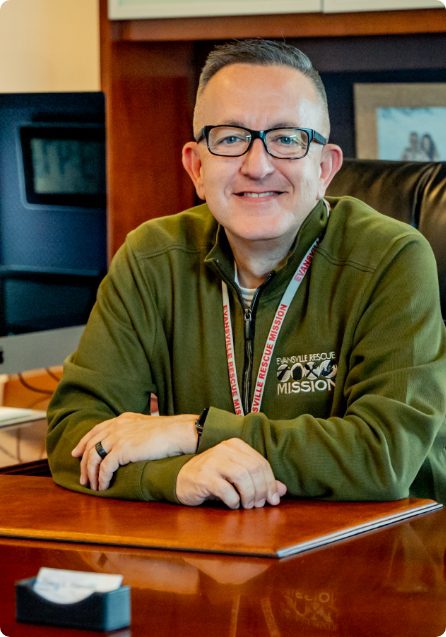 In 1917, the ministries of your Evansville Rescue Mission commenced under the vision and leadership of its co-founders, Dr. Ernest "Pappy" Reveal and his wife, Mrs. Edna Reveal. Originally on Main Street and near the corner of First Street in downtown Evansville, your local Mission was transferred to larger quarters on Second Street for 15 years where Dr. and Mrs. Reveal established themselves as prominent leaders in the Tri-State community.
Later in 1932, the Mission moved to the corner of Ninth and Locust streets where the entire block of the Keller-Crescent Printing Company was purchased through the generosity of Mr. and Mrs. John L. Ingleheart.
Leading up to his death in 1959, Pappy touched countless lives by reaching out to the lost and those often shunned in society through the different ministries of the Evansville Rescue Mission, including Mission's church home, the Evansville Christian Center.
Having big shoes to fill, Mr. George Blackmore became the Rescue Mission's second President and eventually moved the Mission in 1972 to 300 S.E. Martin Luther King Jr. Blvd. where our homeless services took place for more than 30 years. 
In February 2013, the Evansville Rescue Mission was able to successfully move our main campus to 500 East Walnut Street, Evansville, IN 47713. What used to be Evansville's Veteran Administrative and Medical Clinic, the ERM now completes our operations all under one roof in a one-level, 32,000-square foot, handicap-accessible facility. 
Throughout our 100 years of rich history, the Mission has been able to weather the storm financially through sound leadership, through fiscal responsibility, and through caring, generous folks living right here in the Tri-State. 
Here's a listing of ERM's seven Presidents for our ministry's 100 years:
Ernest "Pappy" Reveal: 1917-1959
George Blackmore: 1959-1974
Robert Timberlake: 1974-1975
Dean Zirby: 1975-1978
Richard A. Alvis: 1978-1990
Steven L. Perry: 1990-2008
Tracy L. Gorman: 2008-present
Your gift changes lives!
Give now to provide life-changing care that helps men, women, and children in the Tri-State overcome hardship and find new life through Christ's love.