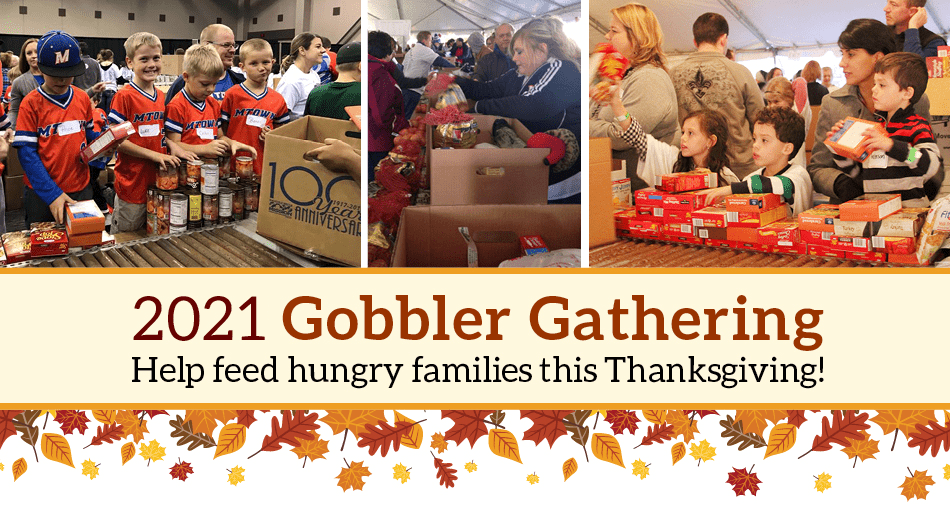 For over 90 years, ERM has hosted our annual Thanksgiving food basket giveaway, the Gobbler Gathering. Taking place each year on the Tuesday before Thanksgiving, the Gobbler Gathering allows ERM to provide more than 2,203 Tri-State families with a free sixty pound food basket.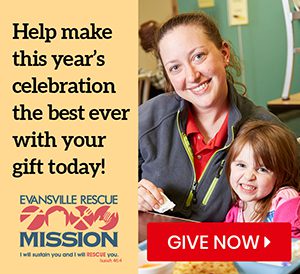 So many struggling Tri-State families will go hungry this Thanksgiving without your help.Your ERM's 
100th annual Gobbler Gathering
 Thanksgiving food basket giveaway will take place on November 23, 2021 – and your support is urgently needed.Your generous gift today will ensure every family in need who attends can take home a 60-pound basket filled with delicious food for their Thanksgiving holiday.In addition to making a heartfelt gift, here are 5 other easy ways you can get involved in this year's Gobbler Gathering:
Host a food drive to collect needed Gobbler Gathering food items. You can drop off food donations at ERM's main campus (500 E Walnut St, Evansville, IN 47713) up until Friday, November 19, or call us to make arrangements to pick up food collections of more than 500 items.
Help sponsor this year's Gobbler Gathering with your generous gift of $200, $500, $1,000, or $2,500 to help cover the general operating expenses for this massive celebration. If you are interested in being a sponsor, please contact Victoria Flaherty, our Director of Donor Relations at 812.421.3800 or victoria.flaherty@ermstaff.org
Participate in our 10th annual Drumstick Dash run/walk, which takes place on Saturday, November 20, 2021 – all proceeds benefit the Gobbler Gathering! Click here to register.
Volunteer to help with setup, food distribution, cleanup, and other needs during Gobbler Gathering Day on Tuesday, November, 23, 2021. To volunteer, click here or contact Taylor Humphrey, Community Engagement Coordinator at 812.421.3800 or taylor.humphrey@ermstaff.org
Thank you for being a blessing to Tri-State families who are struggling and in need of a helping hand. With help from dedicated friends like you, this year's Gobbler Gathering is sure to be extra special!
For more information or if you have any questions about ERM's Gobbler Gathering, please call ERM at (812) 421-3800 or e-mail ERM at info@ermstaff.org.